Who's here...


Astrologers in Astrology Secrets Revealed Forum

Deirdre Tanton
In the fall of 1990, I embarked on the transformation of becoming an astrologer. It started one weekend in November when I had an uncontrollable desire to know how astrology worked. So I sequestered myself in my apartment until I understood the basic structure of a chart and the names of the things in it. From then on I devoured all astrology books I could get my hands on. I emerged from that period completely in awe of astrology as an infinite body of wisdom and I still feel the same way today.
My approach to astrology readings is to create a safe space to help people understand themselves. I like to give people strength and courage to do what they might be scared to do and to brainstorm new paths together.
Reach Deirdre by email at deirdre@planetwaves.net. She takes inquiries in English and German. She handles personal consultations.
Paloma Todd
I started to study astrology when i was 15 years old. My grandmother was an astrologer, and I inherited her books. I remember the day i did my first mathematical calculations (no computer programs at that time), and put up my planets on the wheel, draw the aspects lines...and gazed into this mysterious mirror that contained the stepping stone of a self-discovery journey. Since then, i've always had an astrology book in my hands, i have encountered two influencial and forming astrology teachers, and had read charts to all my friends and family members. Now i work with clients.
My approach to astrology is evolutive and transformational and i work with my clients in finding the source of creative power in their charts. I studied art and photography, became a full time artist and social worker, and i am now embarking in the studies of art therapy. I am passionate about the meeting place of the individual, the chart and the creative destiny of our souls.
Reach Paloma by email at paloma@planetwaves.net. She takes written inquiries in English and Spanish and can do consultations in English, French and Spanish.
Cristina Laird


Psychology and dance were my first loves until astrology came into my life. In my twenty something years of practicing and teaching Astrology, I have learned to interpret less and listen more, to rationalize less and to feel more. I cherish the mystery that each individual brings to me. After traveling the world and pursuing Archetypal Analytical Psychology, Psychotherapy and Psychodrama and Psychodance as well as almost 7 years in radio and a bit of television I now focus on my private practice, my one to one contact with people.
Reach Cristina by email at cristina@planetwaves.net.
Michael Cipriano


I began my astrological journey by just asking people their birthdays. When I noticed that traditional sun sign descriptions fell short of who each person really was, I bought astrology software and countless books to delve deeper into researching the mystery of astrology. Then I consulted an astrologer for a reading which ended up leading me to become an astrologer and counselor. Soon after, I began formal studies in astrology and got certified in coaching.
In my astrological practice, I am passionate about integrating the practical realities of my clients' experiences with metaphysical, evolutionary perspectives that can help them grow the most. I firmly believe that every soul's inner peace can create a world of outer peace.
Reach Michael by email at michael@planetwaves.net.
Eric Francis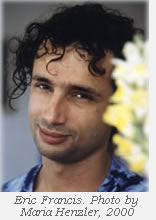 I've done tarot and astrology readings a long time, going back to 1988 when I was editor of Kane's Beverage Week and set up shop reading cards for free in the [free] Anheuiser-Busch restaurant at the National Beer Wholesalers Association Conference in Anaheim, CA. Yep that's where I trace my roots as a diviner for others.
I stuck with tarot cards for about seven years until, as the story goes, I had my mind blown by the Patric Walker Horoscope in the NY Post so many times that I had to figure out how it was done. So I bought an ephemeris and then one year later, started my own column called The Navigator in a paper called Free Time in Poughkeepsie, NY.
You can find out lots more about me in Wikipedia. Reach me directly at francis@planetwaves.net.

Anatoly Ryzhenko



Anatoly is our webmaster in the Ukraine. I don't know if he knows this but some of us refer to him as Buddha. He works long hours, usually late into the night, keeping Planet Waves systems running, and helping a lot of our friends with their Web sites as well. His first language is Ukrainian and his second seems to be Latin -- he was involved in translating 50,000 Latin expressions into Ukrainian. With his creative use of English, he is helping me develop the language of the future.
Reach him at anatoly@planetwaves.net. He speaks Latin, English, Russian and Ukrainian.